About Us
Thank you for visiting The Obituary Place, the official memorial printing service website for high quality funeral programs at an affordable price. We would like to extend our sincere condolences to those who have lost a family member or friend. We specialize in designing and printing customized funeral programs to honor the life of your loved ones. We would be honored to assist you in your time of need.
The Obituary Place was born out of a personal commitment to the African American Community, and a burning desire to assist in the Home-Going ceremonies of their loved ones. When this unfortunate time comes, no family is fully prepared for how losing a loved one can affect them.
Producing obituaries was not a life long dream for the owner, and only after losing a close loved one did the idea ever cross his mind. Collecting obituaries of lost loved ones has long been a part of African American culture. In fact, it is not uncommon for elder family members to display old funeral programs in their homes. Simple black & white obituaries, printed on regular copy paper are the standard.
Wanting something better than a black & white program to commemorate his loved one, the owner created an upgraded color obituary. That was the first creation and was the start of the owner creating funeral programs for some of his select friends and family members. Shortly there after he began producing obituaries on request from the general public, and The Obituary Place was born.
The Obituary Place Obituary Printing understands the pain of losing a loved one, and we want you to know that we offer solace in your time of need with a custom design and fitting commemoration of the deceased. Losing a loved one is perhaps one of the most difficult events you will ever have to endure.
The Obituary Place Obituary Printing understands how important it is to preserve the memories of your loved one and share them with others.
Obituary Printing and Design service will help you keep memories alive. The obituary service creates keepsakes for families in the Greater Houston and surrounding areas and works along side funeral homes, churches and families to provide printing services.
Our commitment at The Obituary Place Obituary Printing is to provide comfort to those grieving over the loss of a loved one, while providing an affordable printing service for the family and friends that will serve as a memorable funeral program and lasting keepsake.
We specialize in obituary printing, but our company is well versed in all of your printing needs. Please call us or stop in for business cards, flyers, wedding invitations and much more!
Over time, the obituary has become the epitome of keeping a loved one's memory alive. It's not just paper anymore, but the obituary symbolizes and celebrates life. You can count on The Obituary Place Obituary Printing service to provide you with a memorable treasure of your loved one.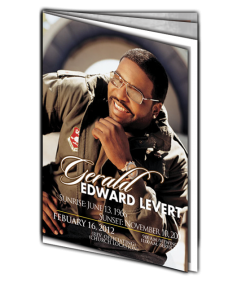 In general, obituaries include the following information:
· Pictures
· Obituary text
· Order of Service
· Scriptural Lines of text
· Pallbearer Names, Honorary Pallbearer Names
· Acknowledgements
· Poem selections
· Interment / Cemetery Name and information
· Repast Information
· Sometimes a family collage page of pictures
· Excerpts of letters / written memorabilia
The Obituary Place Printing is your printing and design source to receive one-on-one service to produce an exceptional obituary with your vision from start to finish. Our main goal is to create a quality product as quickly as possible with 110% satisfaction.
.